Dingell Update: January 26, 2021
Washington, January 26, 2021
Tuesday, January 26, 2021
Thought of the day: "Be kind to unkind people; they need it the most!"
On Monday, Michigan reported 3,011 new cases of COVID-19 and 35 new deaths, bringing the state's total cases to 551,000 and deaths to 14,326.
Vaccines are continuing to be delivered to states. On Monday, Michigan reported 1,476,775 COVID vaccines have been distributed and, of that, 730,453 doses have been administered. Michigan continues to prioritize vaccinations for at-risk populations, including frontline workers and those 65 and older. For more information on Michigan's vaccine eligibility requirements, visit Michigan's COVID-19 vaccine information page.
At least three mutated variants of COVID-19 have been discovered, originating in South Africa, Brazil, and the UK. One of these variants, B.1.1.7, has been discovered in Michigan, including in Wayne and Washtenaw counties. The UK variant is approximately 1.5 times more transmissible than other known strains of COVID. As of now, this variant does not appear to cause more severe sickness than the other known strains.
With the discovery of these new variants, President Joe Biden acted quickly to restrict travel, barring most non-citizens from entering the US from the UK, Ireland, Brazil, and the Schengen area of Europe. Additionally, President Biden will add restrictions for most travelers from South Africa, beginning January 30, 2021.
COVID vaccine manufacturers, Moderna and Pfizer, have said their vaccines are effective against the UK variant that has appeared in Michigan. However, Moderna has said their research shows its vaccine may not be as effective against the South African COVID variant. The manufacturer has begun testing to see if a third booster shot will help improve their vaccine's efficacy against the South African variant.
With this new, more transmissible variant discovered in Michigan, it's more important than ever for Michiganders to commit to masking up, keeping their physical distance, and washing their hands regularly. If you have been exposed to someone, or if you have recently traveled, it is important to get tested.
Vaccines are offering us hope to finally crush COVID and build back our economy. But we have to continue following CDC guidelines—even those who have received one of the FDA approved vaccines should continue to mask up. The first dose of either vaccine only offers a small degree of protection from COVID infection, a vaccine's stated efficacy isn't achieved until both doses have been administered.
President Biden is working hard to vaccinate more Americans, setting a goal of vaccinating over 1 million Americans per day. President Biden has said he strongly believes we will have enough vaccines for anyone wanting one by the Spring. To do this, he will use the Defense Production Act, something the last administration refused to do, to focus resources on increasing production and distribution of these life-saving vaccines. President Biden has also finally given us a national plan for crushing COVID, something we have needed for almost a year.
The public-private partnership that brought two vaccines to the market was great, but the previous administration failed to set up a structure for distributing the vaccines efficiently once they were ready. Instead, the previous administration left all of the work to states and then refused to provide state and local governments with funding to build the infrastructure needed to distribute the vaccine. The previous administration's lack of planning caused so much confusion in the distribution and administration of vaccines and slowed the vaccine's rollout. The Biden Administration is correcting the previous administration's mistakes by working with state and local governments to speed up vaccinations and save lives.
Work is beginning in the House on the next COVID relief package, laid out by the Biden-Harris Administration. Families and small businesses are struggling—additional action is not a choice, but a requirement. We must do our job in Congress to pass a relief package that meets the needs of struggling Americans, including investing more in vaccine distribution, more help for small businesses, and survival checks for individuals and families.
We have a lot of work ahead to address the many issues impacting the lives of Americans, including raising wages for frontline workers, providing support to struggling small businesses, delivering direct payments to Americans, and much much more.
Yesterday, House Impeachment Managers delivered the article of impeachment against the former president for inciting a violent insurrection that left five people dead, including a US Capitol Police officer. Today, the U.S. Senate will be sworn-in as judges and jurors for the trial that is scheduled to start in early February.
It's important for the unity of our country and preservation of our democracy to hold those responsible for the attack on January 6th accountable for their actions, and at moments, lack thereof. Trump's rhetoric and actions on January 6th violated his oath of office by inciting a seditious riot at the US Capitol. Donald Trump must be convicted in the Senate and barred from ever holding public office again.
COVID-19 Vaccine Information
Michigan is busy at work distributing and administering COVID vaccines. More information on vaccinations can be found by visiting https://www.michigan.gov/coronavirus/0,9753,7-406-98178_103214---,00.html.
Washtenaw County Vaccine Information

Wayne County Vaccine Information
Wayne County is currently in 1A of their vaccination plan, prioritizing health care workers. No public vaccination sites are currently available. Please continue to check their COVID Vaccine page for updates.
Biden to reopen ACA insurance marketplaces as pandemic has cost millions of Americans their coverage – Washington Post
Biden Commerce pick stresses investment in COVID-19 recovery – The Detroit News
COVID-19 variant cases growing, 'very concerning,' Michigan's medical chief says - The Detroit News
MI-12 COVID Testing Sites
The State of Michigan has launched a statewide COVID testing site locator. This tool will help Michiganders search for cost-free testing sites near them. If you or someone you know may have been exposed to COVID, it is important you get tested.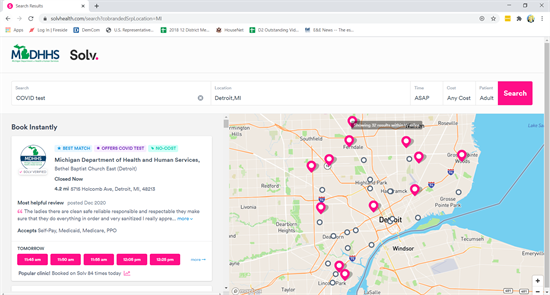 Additional COVID testing sites are announced regularly and this list may not be exhaustive.

ACCESS Community Health and Research Center (6450 Maple Street, Dearborn) offers free mobile COVID testing every Tuesday, from 1-5 p.m. Tests will be given on a first-come-first-serve basis, though you may pre-register by texting "UPG Cares" to 48355.

The 2|42 Community Church in Ann Arbor (648 S. Wagner Road, Ann Arbor) is offering contactless drive-thru only saliva testing. Testing is available at this site Mondays, Wednesdays, and Fridays from 8 a.m. to 1 p.m., and on Tuesdays and Thursdays from 3 to 7 p.m. Pre-registration is required for this testing site. Those needing to be tested should pre-register here: lynxdx.health/register

Team Dingell is here seven days a week and wants to listen and help. It isn't as smooth as we want on some issues, but we will never stop fighting for you. Call our office at 313-278-2936 or contact us through our webpage.

Be safe, Michigan! Wear your mask, keep your physical distance, and wash those hands!